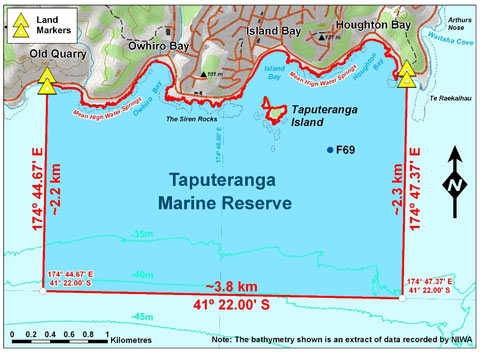 The Taputeranga Marine Reserve is located on Wellington's South Coast. Thanks to the convergence of 3 massive ocean currents and a wide range of habitats, the region boasts a high diversity of marine life. Being close to a large population centre, the area has a long history as a place for Wellingtonians to gather food for their families. However, since 2008 when the area was accorded reserve status, the 9 square kilometre reserve has been fully protected and the removal of anything from the reserve prohibited.
The rate of regeneration and recovery of many marine species has surprised scientists and locals alike. Just 3 or 4 years ago Blue Cod would have been an uncommon sight. Now they are seen on a daily basis. The same applies to Blue Moki, Spiny Red Rock Lobsters, Butterfish and many more fish species. Dolphins, Orca and Whales are now regular visitors.
In the middle of the reserve is Taputeranga Island. Just 80m from the shore at its closest point, Taputeranga Island is one of Wellington's best kept secrets. Huge rock pools are home to hundreds of plant and animal species.
Exploring the massive rocks and deep pools at the southern tip of the island is like stepping into a different landscape. Crystal clear rock pools over 2.4m deep provide glimpses of habitats that no longer exist on the mainland. On a clear day the views extend well down the South Island!
Exploring the Taputeranga Marine Reserve is a must for all Wellingtonians and visitors to the City.
Snorkelling and Kayaking adventures in the sheltered beaches and bays, or out to Taputeranga Island can be arranged by contacting us.