Swimming With Sea Lions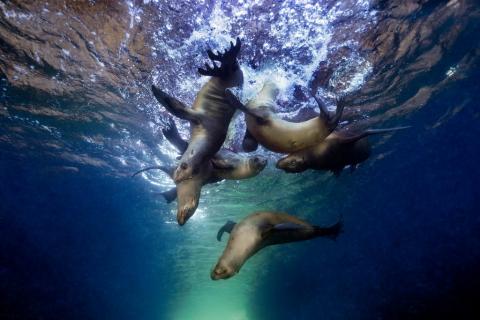 Photographs and Text by Benjamin Lowy
Nestled off the coast of Baja California Sur, near La Paz, lies a string of islands in the Sea of Cortez — including Isla Espíritu Santo and Isla Partida. Part of a UNESCO Biosphere Reserve, and one of Mexico's leading eco-tourism destinations, these islands, along with their surrounding reefs and outcrops, are home to countless forms of marine life.
At the northern tip of the chain, just beyond Isla Partida, is a small craggy outcrop — roughly a quarter mile long — called Los Islotes, or Isla Lobos. Here, where few people have access, lives a large colony of sea lions.
I visited the area on one of my first underwater assignments, after years spent covering war, politics and sports. Diving there was a transformational experience.
Alone, floating in the open water, I found peace among these playful animals, sometimes referred to as "dogs of the sea.
Their evolutionary origin can be traced back to ancient bears and the mustelids (otters, weasels, ferrets) that, in a reversal of terrestrial mammal evolution, returned to the sea and developed fins.
Swimming around the circumference of Los Islotes is possible, though the water in some areas is quite shallow, and access is often restricted by tour guides.
Young adolescent sea lions can be seen playing in the surf and sunbathing on rocks. The bark of dominant males echoes above and below the water as they patrol the sea for threats to the colony and to their rule.
Above the water, the animals populate every rocky outcropping, lying prostrate in the sun."Sea lions really do seem like dogs: They play fetch with rocks, starfish and the occasional bone, and they often seem enamored by the few humans who swim with them. They constantly nibbled at my fins, or stared at their reflection in the dome of my underwater camera housing. Read More
Recent Items