Adventure Tours
Guided Field Trips
School groups can extend their day out at the Marine Education Centre by adding a guided field trip to their visit. Morning and afternoon sessions are available for school groups to visit interesting sites relevant to what's being studied back in the classroom. All our field trips cover information relevant to several fields of study including science, geography, and social sciences, and all incorporate cross-curricular integration.
Snorkelling Adventures
This exciting programme offers school children an introductory snorkelling exploration of local marine life within the Taputeranga Marine Reserve and a variety of other locations around the Wellington region. All our snorkelling programmes are led by qualified instructors and are suited to students from 12 years of age and above. We provide quality 7mm wetsuits, hoods, fins and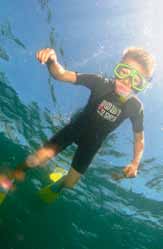 mask/snorkel sets. Our Snorkel Adventure programmes are tailored for each group with age-appropriate content that complements what students are doing and learning in the classroom.

For more information and booking one of our educational Adventure Tours for your group, please contact bookings@octopus.org.nz.
Recent Items