Open Sundays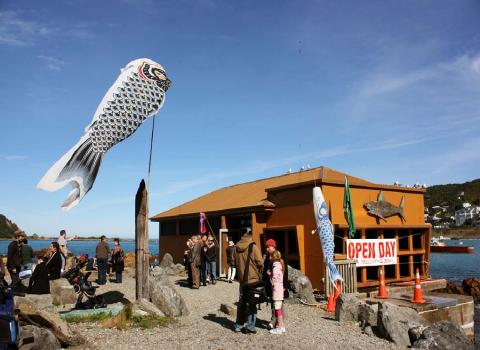 Open Every Sunday
10am to 3pm
Everyone Welcome!
Click here to see our location and how to get to us.
We'll be open every Sunday from 10am to 3pm until 18 December 2016. The Centre will re-open on Sunday 22nd January 2017. Our Sunday Open Day is a great opportunity for everyone to have a look at what's happening in the Aquarium and share a special experience with family and friends. Click here to see what's new in the Aquarium.m..
All our marine life is from the Wellington region. Octopuses, Seahorses, Blue Cod, Hapuka (Groper), Fish of the Day and loads more are always on display. Our most popular exhibit is the "Touch Gently" tank where visitors are able to carefully hold some of the marine animals and get up-close and personal! It's a challenge for all ages!

Open Sundays are also an opportunity for children to show their parents what they've been learning during their class visits to the Island Bay Marine Education Centre.


The Bait House Aquarium is staffed by knowledgeable and dedicated volunteers to help visitors learn more about the marine life they're seeing.

Open Day Timetable:

10.45 Octopus encounter.
This is always a popular event and is accompanied by an informative talk about local Octopuses.

2.45 Fish of the Day release.
Periodically, one of our short term residents is released into the Marine Reserve and visitors are encouraged to lend a hand.

Entry:
Child: $2
Adult: $5

Recent Items